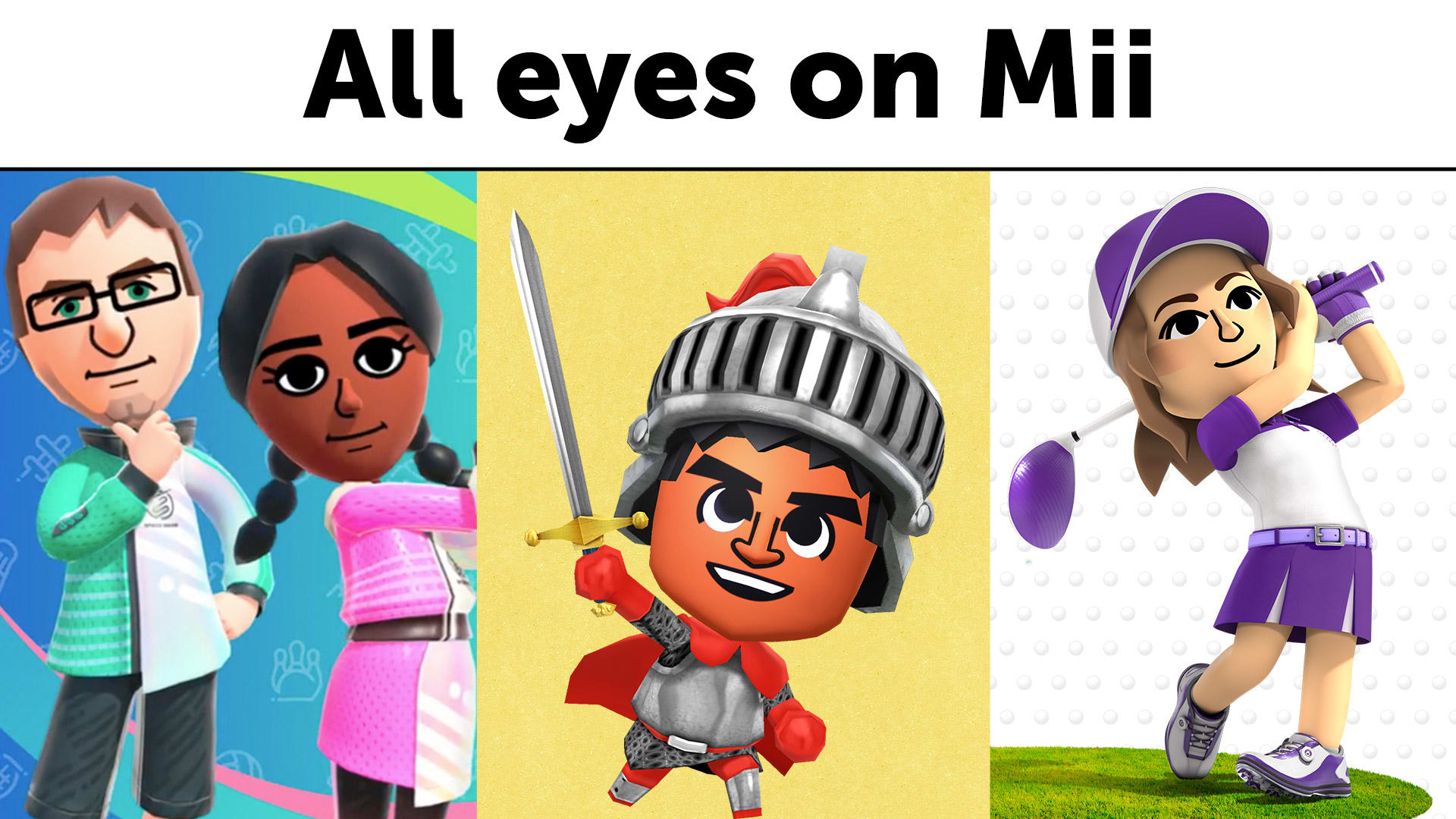 Use your Mii characters in these games!
Creating your own Mii™ characters can be a ton of fun. Whether you've created a character to look like you, your friends, or family members, these games allow you to insert your Mii characters into their story.
In the latest iteration of the Wii Sports™ series, you can play solo or face off against your family and friends* in six different sports: Soccer, Volleyball, Bowling, Tennis, Badminton, and Chambara (which is a type of swordplay). Create a Sportsmate avatar or use your Mii character to show off your personal style!
Create Mii characters of your family and friends, then cast them in a comedy-filled adventure to bring down the face-stealing Dark Lord. Customize each character, assign them roles, and watch them come to life! Have a blast with new features, including an adorable horse pal, wigs, makeup, and more.
Legendary game worlds and fighters collide in the ultimate showdown! Create your own Mii Fighters and get ready to battle it out locally* or online**. You can even expand your roster of fighters and get a Mii Swordfighter outfit with the Super Smash Bros. Ultimate Fighters Pass Vol. 2 paid DLC***!
Hit the green with familiar Mushroom Kingdom characters in the Mario Golf™: Super Rush game! Jump into Golf Adventure and enroll your Mii character in golf training to earn experience points, improve your character's stats, and bring them (and their customized stats) into other modes.
Battle in various modes as one of your favorite Mushroom Kingdom friends or jump into the driver seat with your Mii character in the Mario Kart™ 8 Deluxe game. This definitive version of the game includes a huge roster of playable characters and 48 courses for you to battle it out online** with up to 12 players!
Take on two family-friendly, side-scrolling adventures with up to three friends* as you try to save the Mushroom Kingdom. Enjoy three additional game modes in which you can also play as a Mii character: Challenges, Boost Rush, and Coin Battle!
Welcome to Kawawii Island, a paradise resort where friends and family can enjoy co-op and competitive activities. Choose an avatar or bring your Mii into the game to explore the island. With four different resorts, you can explore different environments and their corresponding activities.
---
---
*Additional games, systems and/or accessories may be required for multiplayer mode. Games, systems and some accessories sold separately.
**Nintendo Switch Online membership (sold separately) and Nintendo Account required for online features. Not available in all countries. Internet access required for online features. Terms apply. nintendo.com/switch-online
***Full version of game required to use DLC. Sold separately.